Mining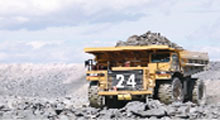 Seal Innovations technical staff have many years of experience in providing both standard and customised sealing components for use within mining equipment applications.
Mining equipment is applied in the most challenging environments and sealing systems are evolving rapidly to meet our customers' needs of strict safety standards and optimised equipment reliability.
Seal Innovations have access to premium elastomeric materials that are compatible with a wide variety of fluids used within mining equipment applications. Our flexible in-house manufacturing capability ensures our customers have access to the shortest production lead time possible.
Seal Innovations products are in use in the following Mining applications; Miners and shearers, Roof support systems, Roof bolting systems, Drilling units, Conveyor systems, Shuttle cars, Loader hydraulic systems and Washing plant pumps and gearboxes.